Monday-Thursday: 9:00 am to 3:00 pm
Friday: 9:00 am to 12 Noon Only
The parish office is closed on National Holidays and Catholic Holy Days of Obligation.
THE IMMACULATE CONCEPTION
OF THE BLESSED VIRGIN MARY
FRIDAY, DECEMBER 8, 2023
8:30 AM - Morning Mass
12:00 PM - Noon Mass
7:00 PM - Evening Mass
ADVENT DAY OF CONFESSION
FROM 1 PM to 5 PM
SATURDAY, DECEMBER 16, 2023

Advent is a time for us to reflect on our relationship with God and to prepare ourselves for the birth of Christ.
That makes it an ideal time to participate in the Sacrament of Reconciliation.
TRICKY TRAY
WINTER FESTIVAL
Sunday, January 14, 2024
For more info, please scroll down...
ADVENT WITH HALLOW
Holy Spirit has partnered with the Hallow team to provide access to all parishioners to all of Hallow's prayer content through Easter for $1.00! Our parish partnered with Hallow to help you focus on the true reason for the season: welcoming Jesus as the savior of the world, and the King of our hearts.
Hallow is a Catholic prayer and meditation app with over 10,000 sessions. The content ranges from daily meditations, traditional prayers, Bible stories for sleep, kids and family prayers, mental health meditations, Seasonal music, and so much more. As you are preparing your homes with decorations and lights, buying gifts for loved ones, going to holiday parties, and more, don't forget to prepare your heart.
To get started, scan the QR code or visit hallow.com/holyday and select our parish in the search bar. From there, you can either create a new account or log into your existing free account to be able to access a full Hallow Subscription. After Easter, you can opt into keeping a subscription to Hallow for a 20% discount, or continue on with all the free content in the app. We hope you'll take the opportunity to pray with Hallow this Advent and grow closer to God during this prayerful season. You can click here for detailed signup instructions or a Registration Walkthrough video.
CHRISTMAS SCHEDULE
THIRD WEEK OF ADVENT
SATURDAY, DECEMBER 23, 2023
8:30 AM - Weekday Morning Mass
5:30 PM - Fourth Sunday of Advent Vigil Mass
FOURTH SUNDAY OF ADVENT
SUNDAY, DECEMBER 24, 2023
8:00 AM - Fourth Sunday of Advent Mass
10:00 AM - Fourth Sunday of Advent Mass
12:00 PM - Fourth Sunday of Advent Mass
CHRISTMAS VIGIL
SUNDAY, DECEMBER 24, 2023
4:30 PM - Vigil Christmas Mass
12:00 AM - Midnight Christmas Mass
CHRISTMAS DAY
MONDAY, DECEMBER 25, 2022
8:00 AM - Christmas Day Mass
10:00 AM - Christmas Day Mass
12:00 PM - Christmas Day Mass
SATURDAY, DECEMBER 30, 2023
8:30 AM - Weekday Morning Mass
5:30 PM - The Holy Family Vigil Mass
THE HOLY FAMILY OF JESUS,
MARY AND JOSEPH
SUNDAY, DECEMBER 31, 2023
8:00 AM - The Holy Family Mass
10:00 AM - The Holy Family Mass
12:00 PM - The Holy Family Mass
SUNDAY, DECEMBER 31, 2023,
NEW YEAR'S EVE
5:30 PM - Mass of Thanksgiving
SOLEMNITY OF MARY,
THE HOLY MOTHER OF GOD
MONDAY, JANUARY 1, 2024
8:00 AM - BVM Mother of God Mass
10:00 AM - BVM Mother of God Mass
12:00 PM - BVM Mother of God Mass
Sunday Mass
Saturday: 5:30pm (For Sunday obligation)
Sunday: 8:00am, 10:00am and 12:00Noon
Daily Mass
Monday - Saturday: 8:30am
Holy Days: As announced
Reconciliation
Monday - Friday: 8:00am - 8:20am
Saturday: 8:00am - 8:20am and 4:00pm - 5:15pm
Mass For Our Country
September - June: First Thursday of the Month
Patriotic Rosary at 7:00pm and Patriotic Mass at 7:30pm
First Friday
First Friday of the month to the Sacred Heart of Jesus at 9:00 am (after 8:30 am morning Mass)
First Saturday
First Saturday of the month to the Immaculate Heart of Mary at 9:00 am (after 8:30 am morning Mass)
Divine Mercy Chaplet
Divine Mercy Chaplet on the Third Sunday of the month at 3:00 pm
Novena to BVM and St. Jude
Novena to Blessed Virgin Mary and St. Jude
September - June: Every Monday after 8:30 am Mass
TRICKY TRAY WINTER FESTIVAL
Sunday, January 14, 2024
Today we are announcing our upcoming Winter Festival Tricky Tray event, scheduled for Sunday, January 14, 2024. Doors will open at 2 PM. This event will become a beloved tradition in our parish and a significant source of funding for the essential repairs and renovations required to maintain our beautiful facilities. As we strive to ensure the safety and comfort of our congregation, these repairs have become increasingly necessary.
Click here to buy Tricky Tray tickets, or please scan the QR Code on the right (you can also click the QR Code). You can also buy the Admission Tickets at the Parish Office, or at the conclusion of Sunday Masses in the Church. The cost of the ticket is $20.00 per person. Please note that no one under the age of 18 will be permitted.
HOW CAN YOU HELP?
Gifts-in-Kind: We welcome donations of goods or services that can be included in our Tricky Tray auction. Donate online using our shopping list at Amazon.com OR you can scan the QR code above (or click on it). Monetary Donation: Your financial support in the form of a monetary donation would be greatly appreciated. Any amount, whether big or small, will contribute to the success of our event. To make a donation or inquire about sponsorship opportunities, please feel free to contact us at [email protected] or call us at 908-687-3327. We are also happy to arrange to pick up physical donations if needed.
We sincerely hope you can join us in this noble endeavor to support the Holy Spirit Catholic Church. Your generosity will not only help us maintain our beloved church but also strengthen the bonds within our community.
Thank you for considering our request. Together, we can ensure that the Holy Spirit Catholic Church remains a beacon of faith, hope, and love in our community for years to come.
Yours in Christ,
V. Rev. Krzysztof K. Maslowski, Ph.D., V.F.
Pastor
Parish Membership
​Our parish family invites all of its members to participate fully in our spiritual and social life. Every family moving into the parish is requested to register at the Parish Office. If you move, please let us know. Certificates of Eligibility (Godparent/Sponsor certificate) will only be given to registered parishioners. Please, click here for Parish Registration Form.
Join the Choir
The Music Ministry supports the singing and worship of the congregation. Such a wondrous ministry requires many gifts of talent, time, and treasure. We strive to put our parish's many gifts to work so that our most important work may be made possible to engage fully through service and participation in our worship as the Body of Christ.
Religious Education - CCD
Our religious education program is offered for the children of our parish. The classes taught in the CCD Confraternity of Christian Doctrine program not only educate children about Jesus and the Catholic faith but, also, prepare children to receive the sacraments of Penance (Confession), the Eucharist (Holy Communion), and Confirmation. The schedule follows the Union Public School schedule as closely as possible. Information regarding registration is published in the church bulletin. Click here for the CCD class schedule.
Baptism
The Sacrament of Baptism is normally celebrated on the second Sunday of each month. A Preparation Program is required for first-time parents. New parents should register for the Baptism as soon as possible after the child's birth by contacting the Parish Office. Please, click here for the Baptismal Registration Form.
For information on who can be a sposor (godparent) of the baptised child, please, click here.
A Biblical Walk Through the Mass
In A Biblical Walk Through the Mass by Edward Sri, we will discover how the Mass is nothing short of amazing. Through it, we encounter God in the most intimate way possible as we hear him speak to us in the Liturgy of the Word and as we receive him Body and Blood, Soul and Divinity in the Holy Eucharist.
The words, the gestures, and the rituals of the Mass are rich in meaning. Everything we say and do in the Liturgy is steeped in biblical language. A Biblical Walk Through the Mass explores the extraordinary biblical roots of the Liturgy and reveals what it all means and why it all matters. This fascinating tour of the Mass will renew your faith and deepen your love for and devotion to the Holy Eucharist.
On Tuesdays, November 7, 14, 21, 28, and December 5 at 7 PM in Drexler Hall. The seminar will be limited to only 30 participants.
171 CLIFTON AVENUE
P.O. BOX 9500
NEWARK, NJ 07104
TEL | 973-497-4000
www.rcan.org
Weekly reading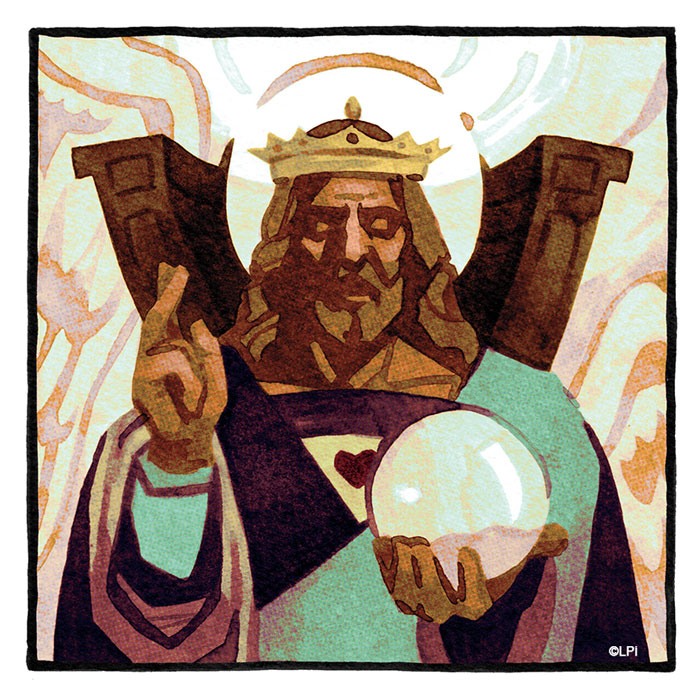 Weekly reading
Readings for the week of November 26, 2023
© Liturgical Publications Inc
Saint of the Day
12/02/23 12:00 am
12/01/23 12:00 am
11/30/23 12:00 am